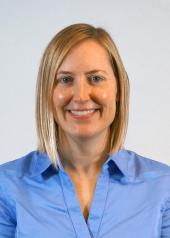 Title
Clinical Social Worker, The UCSF Center for ASD & NDDs
Education
MSW University at Albany, State University of New York
BA Comparative Religion, Princeton University
Katy is a clinical social worker specializing in assessment and diagnosis of autism spectrum disorder (ASD). She conducts initial intake assessments and provides individual, family, and group therapy with an emphasis on cognitive behavioral therapy (CBT) and other evidence-based treatments. She has specialized training in PEERS® social skills treatment for teens and young adults. She also provides parent education, support, and community resource navigation through her First Steps parent group.
Prior to joining The UCSF Center for ASD & NDDs, Katy spent six years at the University of Washington Autism Center including time at Seattle Children's Research Institute collaborating on small and large-scale clinical research studies aimed at understanding the genetics of ASD.
Besides the genetics of autism, Katy's current research interests include sex differences in ASD, evidence-based treatment of ASD and other neurodevelopmental disorders, and co-occurring psychiatric conditions in ASD, especially schizophrenia spectrum disorders.